Four Way Specials Feminized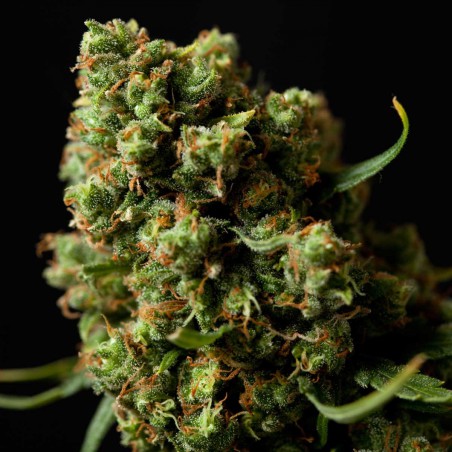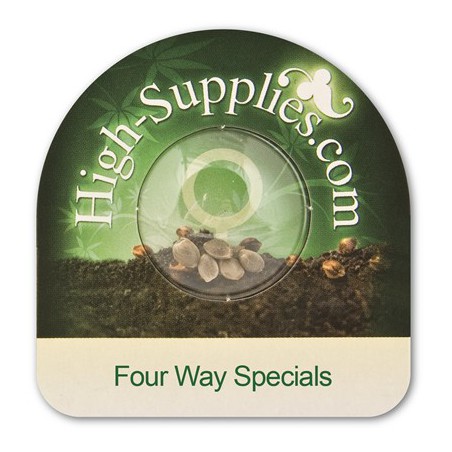 Plant information
Low
Medium
High
Yield
Flowering time
Height
THC:
| | |
| --- | --- |
| Flowering time after (days): | 50 - 55 |
| Height in cm: | 100 - 130 |
| Type: | Feminized seeds |
| Climat | Temperature / Continental |
| Sativa / Indica | Mostly Indica |
| Number of seeds | 5 |
About
Four Way Specials Feminized
Four Way Specials feminized seeds are high quality seeds with promising yield and excellent smell and taste, a must try!
This type of cannabis plant contains the best properties from each variety,
Indica, Sativa, Skunk and Ruderalis properties formed this plant into ideal specie that handles stress and disease very well.
Striking is the perfect balance between taste and effect which is well known by all growers who already had the pleasure of growing Four Way Specials.
Because Indica properties are dominant she won't grow very tall and has a short blooming period which comes in handy if you germinated late or when weather conditions start to change for the worse.
Four Way Specials tastes quite neutral with an earthy spice flavour at the end of the flowering phase.
The effect from consuming the dried buds is also a mixture of Sativa and indica, a perfect high interspersed with a heavy stoned feeling.
These types of feminized cannabis plants have the best properties from different varieties. Our Four Way Special feminized seeds have properties of Indica, Skunk, Sativa and Ruderallis making these plants into strong ones that can handle diseases and stress on their own.  
We're One Among the Pioneers to Offer Such Seeds
Striking the perfect balance of all in Four Way Special feminized seeds is the only way to come up with some fine products. Very few cannabis growers have mastered the art of giving the best of these products and we happen to be one of them. 
After being reintroduced in the cannabis market back in 1995, it continued to become a favorite strain amongst the growers and the smokers. Cannabis growers, who want to grow the strains that are known to offer outstanding appearance and taste along with the sharpness of the finest Indicas in the market, prefer our Four Way Special feminized seeds as they offer the best of all worlds. 
Short Indica Appearance
These usually have an Indica appearance, with short plants and bushy but medium sized big leaves. You get a mild smoke along with one of the most amazingly tasty buds. The best part of these plants is that they work well with almost all types of growing methods. Being a resistant plant the amount of yield it offers is always towards the bigger side never disappointing its growers. 
No customer reviews for the moment.
Your Question has been successfully sent our team. Thanks for question!
Stolen: "Do you ship to Virginia?"
weave: "I am looking for a cheep seed to produce a uppity laughy high, will four way specials do that for me??"
Clyde & NeKita Brown: "does this marijana make you sleepy after u smoke it"
High Supplies: Not this one.
Andre Beckford: "Do you ship to Massachusetts and how long is the wait time for shipment thanks."
High Supplies: Yes we ship there.
Shipping to the US is temporary around 25 (max. 35) business days due backlog (with track and trace around 10 business days). (normally 20 days but now HUGE delay with COVID-19). Cargo planes from Europe to the US fly at this moment at 10% of what they normal do, that is the reason for the huge delay. Contact us when you did not received the order after 35 business days, do not worry, we guarantee your order.

Ask a question
Four Way Specials Feminized